The Department of English offers courses, hosts an annual Creative Writing Awards competition, and is home to eleven40seven, the TCU student journal for the literary arts. Contact Brad Lucas, Department Chair, at (817) 257-6981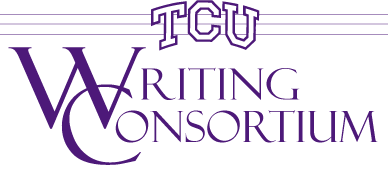 Email the Consortium: writing@tcu.edu
The TCU Writing Consortium is a collective effort of
people, programs, and initiatives working
together to promote writing excellence
across our campus and community.
The professional and peer consultants at The William L. Adams Center for Writing are available to help you with your writing needs, in person or through their online writing lab. Make an appointment by calling (817) 257-7221
The University Writing Committee provides leadership and oversight for campus-wide writing initiatives and curriculum decisions. Contact members Daniel Williams, Charlotte Hogg, and Steve Sherwood
The New Media Writing Studio is both a computing facility and a network of students and faculty working with writing in digital environments. Contact the Director, Carrie Leverenz, at (817) 257-5194
All Core Curriculum Written Communication (WCO) courses, English 10803/10833 and 20803/20833, are offered through the Department of English. Contact Charlotte Hogg, Director of the Composition Program, at (817) 257-6257
The College of Education trains, educates, and mentors future teachers of writing. Contact Jan Lacina at (817) 257-6786 about early childhood and K-12 writing.